eCommerce Consulting Services
What is eCommerce consulting?
In a nutshell, it's getting e-commerce help for your online store and business from someone who's done it before…successfully.
An experienced ecommerce consultant can help you figure out why your website isn't converting that precious traffic, how to get more of it, and how to position your business for success.
An e-commerce consultant can improve your sales, inventory systems and market-share rapidly without you having to reinvent the wheel, saving you time and headache.
This is what I do every day for a handful of select clients with guaranteed results, yep that's right. We only work with clients that we know we can help.
Is ecommerce consulting right for your business? If you want help from a successful ecommerce entrepreneur that's done all this before, yes it's for you.
If you want the learn how to do ecommerce the right way and build an ecommerce business instead of just a website a consultant is a great asset.  Investing in someone with experience to show you the ropes can help you achieve success for you and your company.  Success…whatever that looks like to you, more time with family, more money, less stress, better ecommerce systems and teams that run themselves…this can be achieved through working with the right person.
I help you not only move your business forward, but train you or you team member why and how to keep building it above and beyond.
If you want someone to do everything for you or you won't do the work, this is not for you. Hire a freelancer or typical digital agency.
Here are a few guidelines on the types of e-commerce problems I help solve. If you answer yes to any of the below, we can help.
I want/understand the value of coaching and guidance while growing my eCommerce business.
I want to get my sales numbers back up where they once were.
I'm tired of weak sauce digital agencies that don't deliver for me
I can't tell if my SEO team is even doing anything meaningful
My conversion rate is low and I want to fix it and know why
I want my website to rank higher on google
I want to fix my abandoned cart rate
I'm willing to do the work Travis lines out for me to improve my ecommerce business from the ground up.
What to expect when hiring an ecommerce consultant
We Assess Your Online Business From A TO Z in a holistic fashion. Then define, focus & evolve your vision & goals to bring your business and website to the next level. You'll work directly with Travis (someone who has made millions online) to accelerate growth and get the guidance required to succeed and grow your business.
"Travis here, I've been in your shoes. I actually built and ran a high-performance, multi-million dollar e-commerce business and team before I started consulting (Read more about why I consult now rather than run an online store). The current eCommerce climate is increasingly competitive. In short, I provide recommendations to make you more money, be more efficient, and take the stressful unknowns out of your e-commerce business.
I'll personally help you locate the easiest lowest-cost opportunities for growth and solutions to move your business forward. I've worked with many different e-commerce business types and have strategy and experience to help you build a sustainable, scalable e-commerce business the right way."
I provide advisory, business consulting for your ecommerce business, not just your website. I help my clients take the stress out running an online business and helping them achieve their business goals and improve how they operate their online business.
What Do Ecommerce Consulting Firms Do?
Simply put, assess, strategize and advise how to increase sales and the value of your business with minimal disruption and drain on resources. What to do, and in what order. Seems simple but…that's a tall order and few can deliver it.
Here's an example of a recent client story
A hobby craft ecommerce business signed with me 2 years ago wanting help migrating to Magento. After my full assessment I realized their business model and needs didn't match Magento as a solution at all. It made more sense, and was going to be more beneficial to the client to keep their rickety Volusion site for the moment and work to optimize it. Within a year sales improved $3.74MM/yr , their processes are vastly improved, less stress, and there's still more big moves to make.
We found the customer experience was lacking overall, the SEO company was ripping them off with poor results, and the checkout had issues which was hurting sales. These were the key issues targeted and quantified as most important during the assessment.
We ended up offering recommendations on how to improve the checkout properly, then advised on how to properly redesign their website on their current platform to improve the user experience.
We also audited their current SEO and PPC vendors and found their SEO agency was essentially fraudulent and not doing jack shit.
I typically like to work in a complementary fashion with existing vendors, SEO agencies my clients use. There is a tangible cost to unnecessary disruption and if something is performing ok don't mess with it. In this case, the SEO agency was blowing smoke and taking advantage of this client's trust.
We worked with this client to train them on processes on how to measure search engine optimization (SEO) progress, attribution and what types of organic traffic, keyword phrases etc. were amounting to actual sales.
Today, this client is not only out of their sales slump but have increased sales dramatically as well as Average Order Value and conversion rate (see below).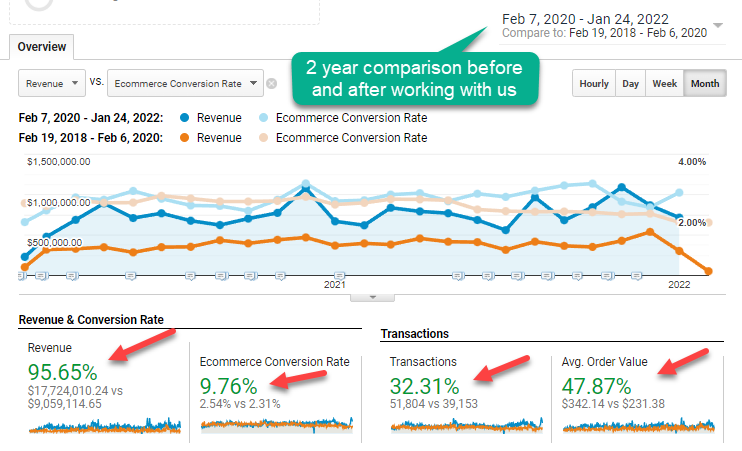 How much to ecommerce consultants charge?
This is a great question! If you're going to trust your business in the hands of another person, would you go with the cheapest option? Do you hire a bargain brain surgeon, lol?
Also, how much would you charge to coach and help other ecommerce owners build a business…if you'd made millions of dollars a year as a successful ecommerce store owner?
You'll find there are consultants that have an hourly rate. The problem with offering consulting by the hour is there's no skin in the game and no guarantee of results. An hourly consultant is also not going to take the time to get to know your business properly, and won't be on the hook for results.
Entry level consultants can charge $70-$150 an hour and results…will vary wildly. Some are just marketers trying to branch out and haven't ever truly run a large scale ecommerce business.
Other consultants charge $500+ an hour with no guarantee of success. These flash-in-the-pan-type engagements are not the most beneficial for your business. I know because I used to charge by the hour. I found the amount of time needed to truly assess the business, the client, their style, their goals etc was immense.
How much does Sharp Commerce Charge for Ecommerce Consulting?
I like to charge based on results. Doing this for years has taught me where the line is for how much e-commerce assessment is needed to create positive results for a new client.
I prefer to heavily research a client's competitors, staff, website metrics and UX/UI, organic rank and a host of other areas before making any actionable business recommendations. This approach is lengthy but delivers powerful insights and recommendations. There are only 2 clients I wasn't able to get results for and they sadly just didn't do the work. If you do the work, you'll get results guaranteed.
I require a minimum 6 month agreement for all clients to guarantee results. I offer a retainer based fee which includes weekly calls, lite project management and as much coaching and guidance as needed to produce results.
I'm committed to getting results for my clients and many clients keep me on retainer for many years continuing sales growth for the business and improving marketing strategy, e-commerce systems, SOP's and efficiency.
Beware of weak consultants
A good e-commerce consultant is hard to find. You'll often find ecommerce consultants that are truly unqualified or are just not very skilled. Most truly skilled entrepreneurs aren't coaching others, they are out there slaying dragons in the business world.
Maybe they took a few Facebook courses and call themselves an ecommerce consultant but they're not. I have seen more of these poor-quality consultants over the recent years, gurus, etc.
All of these people are coming from a place where they haven't actually done it before. They've never shipped a package, they've never truly built an ecommerce business from the ground up. When you review a candidate for consulting services ask them if they've ever run an ecommerce store, how much money they made and why would they consult if they could make more money running a store?
When you hire a consultant, they don't want to get their hands dirty with implementing and it's inappropriate. They've done the implementation part for years and that part of their journey is over.  It's enough of a challenge to learn enough about a business and offer perfect recommendations. If it was easy, everyone would be doing it.
 We will happily work with your existing PPC and SEO teams or recommend our favorite high quality agencies to assist
I have a professional services team to help get things done when needed. I take pride in pushing through roadblocks whether it's web development, market strategy, SEO, customer engagement, Google Ads or some other area of your business. Some clients have their own implementation teams, I often work in concert with them to improve the results you're already getting.
If you have a Google Ads agency that's great, we can work with them. If you don't, we have a whole separate digital marketing team just for Google Ads that has a holistic approach that we can loop in as needed.
I have another similar team for Facebook and Social Media when needed that we trust. Not all ecommerce consultants or firms will offer these services, this is my approach because I've found having trusted specialists in all of these areas gets results for our clients.
Ecommerce consulting services are much much different than using a digital marketing agency. An agency is comprised of marketers that typically specialize in a few areas of e-commerce, not your business as a whole. They also haven't made millions of dollars directly selling products in the proverbial trenches, none of them have, I've checked.
Using an ecommerce consultant who's actually built and managed a 7 and 8 figure e-commerce business adds rare experience to help steer your company. You're not just getting best practice recommendations, you're getting it from someone who's earned this knowledge, making the mistakes and eventually enjoying success with real world e-commerce business experience.
It might surprise you how detailed some ecommerce consultants can be in their assessment. I typically start with a 30,000 foot view, wide sweep, touching lightly on everything from SEO, online merchandising, Social Media, Email Marketing, list building, positioning, inventory management and forecasting systems to hiring techniques, digital marketing, marketplaces, solutions providers, and management infrastructure, Whew!
So Travis, why do you consult for other e-commerce merchants instead of running your own store?
This is a question you must ask every and any consultant you look at.
My answer is simple, I lost my business at year 9 to a surprise hostile takeover.
(My sappy sad story if you want to hear it)
My silent partner betrayed my trust and I lost everything in the course of a year due to a loophole in a contract that my partner took advantage of. Once the business was to a highly profitable point he pulled the rug out from under me. Word to the wise, use an independent lawyer to look over any partnership agreements, lol. I concentrated on running the business instead of how to protect myself from a partner I mistakenly trusted.
After a year in court and a $100k lawyer bill(damn lawyers), I lost the 55% stake of my business and my 27,000 square foot building.
However; I was left with… my field-tested and proven e-commerce skillset + ecommerce strategy playbook.
My story made the rounds on LinkedIn and industry friends started asking for help with their e-commerce projects as a side hustle. Shortly after I was formally helping "strangers" who contacted me for ecommerce help and to date I've made many of them tens of millions in profit yearly. Some clients have been with me for 5 years+.
Triage
There's only one way to offer comprehensive recommendations, review every aspect of your business. I leave no stone unturned and dig into everything from conversion optimization, UI/UX, market positioning to order processing and fulfillment. Unlike other agencies and consultants, I've personally done every aspect personally with a high rate of success.

Planning
What to do and in what order...I'm not not like your typical agency that blasts money on Adwords and Facebook and then find out your website needs work. We start from the ground up, making sure all of the elements of your store and marketing are in order before deploying ad spend and traffic.  I've been in your shoes, we start with inexpensive initiatives first that have the most impact.

Implementation
Making it tangible. I'll clearly define action items and next steps for your team or you can rely on my team for implementation. You'll know clearly what to do next, why and what results to expect. Also, I can take the load off you and your team and help with implementation as much as you need to keep things moving forward efficiently. I am  results-driven and guarantee you'll make money, if you do the work. :)

We've increased sales 2-10x annually for our clients and in some cases added 10's of millions to yearly revenue! We increased sales for one client from 15MM to 50MM over 4 years! That's some serious ROI. We're not showing off, this is just what we do. This is real, not just some inflated shell game bullshit number other wannabe consultants post on their sites. We price our engagements based on results so we have a plan that fits nearly any e-commerce retail business size and type. We do work best with businesses doing 2MM minimum. (Well-funded startups are welcome)
Wow, only 29…that's right. We only take on a few clients at a time to ensure killer results. Some clients have been with us for 5+ years. Each client we partner with for e-commerce services is very important to us, you are NOT a number. We want to kick some ass for your company and this requires individual attention and focus like a Shaolin monk.
124
COMBINED YEARS OF EXPERIENCE
The benefits of working with an experienced ecommerce consulting agency is the synergy of the team with the sharpest minds that not only love what they do but they are really good at it. My team has worked on everything ecommerce, from catalog management to comprehensive Magento catalog builds to viral social media campaigns for emerging brands and more.
Platform-Specific Consulting
Get your e-commerce sales growing again!
Kinda hard to believe, but it's what we do every day for our current clients. It's time to stop your competitors from taking even more of your market share. We can help you make your online store into a scalable powerhouse your competitors will fear.