Conversion Optimization Rate Tips Overview
Online selling consists of two key factors on an e-commerce website, traffic and conversions. It sounds pretty simple and it is…sort of.
Everyone wants to boost conversions. But where to start. One of the keys to online selling is having product pages and an attractive website that converts. All of your marketing efforts will be in vain if your customers can't find what they want and get it easily. Your traffic is valuable, don't waste it on crappy product pages.
Make sure you're respecting your visitors and funnel customers to appropriate and valuable content and you'll see a sales increase. In this article Ecommerce Conversion Optimization 101, I'll give you some simple tips that you can apply to your online store to improve your CRO or conversion rate, and start turning traffic into customers!
Make sure you do these free increase your conversion rate tips below first before hiring a Conversion Rate Optimization Agency.
What does CRO stand for?
CRO stands for Conversion Rate Optimization and generally related to E-commerce websites. This is a deep topic. For the purposes of this article, I'm going to sift out the nuggets that have helped me make increase conversion rates and make a lot of money with my online stores and clients since 2005.
What does conversion mean?
To convert (the action of conversion) can mean few things besides checking out in the shopping cart on your website. A conversion is defined as the desired behavior your e-commerce website visitor is taking. This can be anything from an email open or click to time spent on site or a page. Typically when a conversion is tracked you have a goal in mind, a strategy to achieve it, and a way to measure it like in Google Analytics or Facebook cookie tracking.
What is a good ad conversion rate?
Website and Ad conversion rates are very subjective depending on industry and difficult to quantify. However I have some ecommerce tricks for you on this. Take a look at the conversion rate of the organic traffic in Google Analytics. Then compare that with your Paid PPC traffic conversion rate. Most of my clients with healthy organic and paid traffic will have about the same conversion rate of around 1-4% on average depending on traffic quality and quantity.
Use each of these traffic segments against each other as loose baselines. Typically organic is going to convert better if you have a solid SEO program in place and you're matching intent really well with PPC following close behind.
Some of my smaller ecommerce clients have killer conversion rates at first of say 6%…but they once they start to scale it get's diluted. That's normal and because we're no longer selling to their regular audience and reaching out to new prospects. There is an awareness and trust gap we need to fill with these new visitors.
What is a landing page?
A landing page is any page on your site that you're pushing visitors toward to purchase your product or service which hopefully results in a website conversion of some kind. Landing pages are your virtual salespeople, make sure they are shiny, attractive, and full of information your customers are interested in. A conversion isn't necessarily a sale, it can be an action or behavior.
Live Chat for Ecommerce
Onsite Chat
Yes, adding a live chat to your site can really help with conversions. However…be careful your chat doesn't interfere negatively with the customer experience. For example, your chat widget might overlap with the add to cart button on certain responsive device layouts! I've seen that happen on more than one client account.
Chat Bots
If used effectively you can use Ecommerce Chat Bots to do a ton of work for you and improve your conversion rates.
A bot can collect all kinds of information before you add one of your customer service reps to the chat. You can get the customer email, interests, issues, and more before you even get on the chat. You'll save time and you can allow an opt-in to your email campaigns and help grow your list.
If you take some time and design some clever questions and answers you can really juice up your customer experience and not only help customers find products but collect customer profile data.
You can also setup a bot to run contest and get subscribers. I've seen all of this work for various clients and it can be a powerful way to increase conversion rates.
Optimizing E-Commerce product pages checklist
Regardless of what you sell you are going to have product pages of some kind. Audit your product pages and review these key elements.
Clear Call to Action
Make sure your add to cart button, cart button and checkout button are all easy to recognize and contrast with the background colors, so they pop.
Ecommerce Value Proposition
Present the reasons a customer should buy from you on your product page in an attractive graphic icon block. This is fairly common now on most product pages you see. Why should someone buy from you and not your competitor?
Do some quick research on your competition and see what they're doing…then tell customers how you offer more, whatever that looks like.
Cheaper, Better, Faster are the typical differentiators. My full article on E-commerce differentiation and differentiators is a great resource, check it out when you have time.
Sense of Urgency
Offer a sale or coupon code that ends soon or "ends today" even if it doesn't. Is there a cutoff listed for same-day shipping? Remember your shoppers likely only visit your site a handful of times per year so having an "ends today" coupon in the header may be annoying to you but not to a customer.
Delivery Time
Presenting a clear and guaranteed delivery of some kind is imperative, customers want their order yesterday! List some options like Free 2nd Day air on the page and watch your conversion rates increase overnight.
Complete & Detailed Product Information
Make sure all of the product details that the customer needs are being presented clearly and they are in meaningful order or importance.
Ecommerce Category and Product Images
Present multiple high-quality, attractive, product images that are at least 1500 pixels. Try and use in house photos as much as possible for authority and consumer confidence. This will set you apart from the common drop shippers.
Product Reviews
Present product and store reviews to add authority and confidence. There are a handful of great review solicitation services out there like Yotpo. They have been around the longest, are the most innovative and are who I recommend typically.
Using a review service will increase the number of reviews you get from post purchase emails. Customers see this as social proof and often get answers to their questions through the reviews on the product page. This can be a key element of increasing conversion rate on your product page.
Product Description
Write a custom product description, at least hand write the first paragraph. Use the vendor description below that if you need to. Make sure you have a thorough description of the item in the voice/style of your company that speak to the buyer. Ensure the product description is meaningful and not just some fluffy copy junk that customers will see-through.
Related Products
Go the extra mile and add some popular related products (some store platforms and SAAS services have an algorithm to automate this which I'd recommend). Just make sure you have some related products on the page, this will help increase your average order value, time on site and other key experience indicators.

Make sure you build your product page to instill customer confidence while clearly displaying all the pertinent buying information.
The checkout system with your particular cart is also very important. Look at some of the large successful online retailers and see how their checkout's work. Don't make it hard to check out, reduce clicks and hang-ups during the process and more people will successfully check out.
Ecommerce Customer Journey Optimization
7 Shopper Touch Points
Realize there are typically 7 touch points before an ecommerce shopper converts and it could be many more depending on the level of research needed before purchase. The larger the AOV or Average Order Value, the more research you'll see from most shoppers in general.
Here are some easy wins to improve your ecommerce conversion rate based on improving customer journey and experience.
Present E.A.T. (Expertise, Authority, Trust)
Authority is huge these days with consumer confidence. Why are you an expert in your niche? Share that with your customers every way you can.
Add Staff Picks on Home Page as if staff is curating. Pro Tip: Actually have them curate!
Build out your welcome series with meaningful content and videos to help them get to know you're an authority in your niche.
Setup product page videos with your staff presenting products, showing features, share authority (and show your company culture if applicable).
Share your expertise on blog posts and share those with your audience
This is just the tip of the iceberg, there are many variations of the above that will boost conversions like crazy over time.
A Helpful Voice
When writing any content on the website, use a friendly, helpful voice. This has applied to all of my successful client accounts. When you're setting up a catalog, feel free to add in some messages about your experience with some key products or favorite applications. These are things that will make the website feel real and endearing to the shopper. It also shows you care about your products, website and most likely will take good care of their online order.
Setup an ecommerce pre-sales funnel
Present email opt-ins for customers that aren't ready to buy now. Offer some kind of incentive like a coupon or info your target customer wants.
Email the customer meaningful tips and videos showing them about key products and services you offer to stay on their radar.
Use a cookie to retarget customers that have visited your website and present general ads to them to stay in front of them. Use Ads on Social and and Google to present meaningful tips/articles your customers will value as well as your company differentiator. You can also present product offers or any key message that will entice them to visit your site again.
Having a system to warm up customers to your brand and stay in front of them will increase your conversion rate every consistently.
Examining the ecommerce customer journey
Here's a really useful Infographic from Channel Advisor I'm including to help explain some of the things you need to think about regarding customer experience on your ecommerce store.
Driving traffic to your website
You can drive traffic in a multitude of ways the most common being Pay per Click (PPC). PPC traffic is often the most costly way to purchase traffic for your site so you really need to have these pages bear fruit and convert. If you don't have sweet landing pages, you are flushing your advertising budget down the toilet.
Make sure you are driving the right traffic to your pages! As an e-commerce merchant, you can easily get lost in Google Ads reporting and budgets and forget about matching the content.
Google Ads will actually help you with this with their keyword score tool. Keyword score ranks your Ad based on your keyword density and URL in relation to your Ad in Google Ads.
Having the appropriate content that matches your advertisement consistently will improve your conversion rate dramatically and is absolutely key.
Product Listing Ad's are the heart of selling products on Google Ads. These Ad's are automatically created based on your product feed and use your product image link from your website.
These are some of the safest returns for advertising because you are pre-qualifying your customers with an image of the item they can purchase instead of just text.
You can present ad's in bulk at the item level very easily which also allows a higher level of control and reporting on each item in your catalog. Google will key off your Item Title for keywords automatically so you know the traffic will be matched perfectly to the content on your landing pages increating conversion rates.
Organic Traffic Conversions
Organic traffic can be a huge source of revenue even in 2021. Many online retailers have given up on organic traffic because it takes some planning and skills to get it. But how to get that coveted organic traffic? In short it takes time, great content on blog pages, hard work creating backlinks and many other factors. However the rewards can be worth millions, literally!
You don't have any control over your organic traffic or do you?
When you set up your SEO parameters and designate content on your product pages you are telling search engines what you are offering. This is not as simple as it seems. For example, when you set up a product page for "Acme Army Green Shirt" you'll want to carefully include keyword phrases that match intent as much as possible.
Weak matches results in poor stats, higher cpc and lower organic ranking.
Conversion Optimization starts from the first page the visitor sees, we need to make sure we're matching visitor intent perfectly.
So if a customer wants an Acme Brand shirt that's Green and lands on your general Acme Brand Category… whether it's organic or paid traffic, you're adding some extra clicks to your customer experience or "friction".
To remedy this make sure you're carefully referencing all of the product page information as the customer would search it. Use a "long-tail keyword phrase" that accurately describes the item precisely.
This way Google Ads and organic traffic will have a much easier time matching using it's keyword algorithm to help show your ad to relevant inquiries.
This is an easy tip that many online retailers skip over and wonder why they aren't converting and selling products.
Sometimes un-savvy shoppers will even bounce if they don't find exactly what they want when they initially hit your site. That is becoming more popular all the time as web stores have upped their game.
Tell Google what type of traffic you want on your landing pages by creating content and SEO tags and long-tail keyword phrases that match exactly what you are selling on that page.
There are many other ways to drive traffic and I won't attempt to cover all of them here. Apply the basics shown above to other traffic-driving mechanisms and you'll see conversion rates improve overnight.
What causes low conversion rate?
Intent mismatch
This is an easy one, intent. Matching customer intent has become a huge topic these days in the SEO and Google Ads world. If we can match intent we'll have a lot better chance of converting every time.
But how do we match intent, where do we start?
Make sure that the traffic you're sending to a specific page is going to find a "solution" to their problem. For example, if a shopper is looking for orange Nike shoes and they hit your general "athletic shoes" page you're not going to have a great chance of conversion.
However; if you are careful with your site structure you can have a section for just "orange shoes" on your shoe website that your customer will have a great experience.
This could be a filter, a subcategory or even an anchor that scrolls you down to the appropriate section. Many ecommerce carts have all the built in filtering for colors and size so you can easily route customers accordingly.
Slow Landing Page
It doesn't matter how amazing your prices or products are if your website page is slow. Slow pages don't convert. Customers get tired of waiting for pages to load and will bounce. This also causes another side effect, poor organic ranking.
It's Google's job to match intent and give it's users a great experience. Google has painstakingly created many different ways to tell if a customer is having a great experience on your website. Ever wonder why Google Analytics has certain metrics on the Audience Overview Dashboard?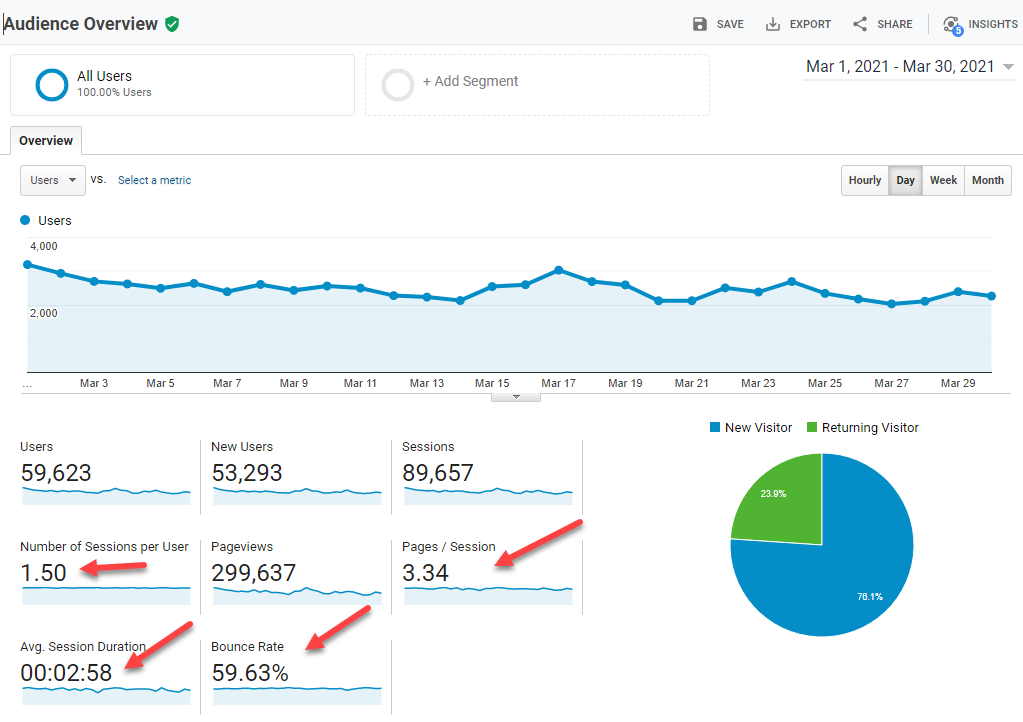 Yep, they are what Google considers key factors in a positive customer experience. Google is actually telling you how it's measuring your website customer experience.
Poor Product Descriptions
I often see websites that have short boilerplate descriptions that come from the vendor website. That is really bad for a few reasons.
It likely doesn't rank well for SEO (non unique content)
The shopper may not have enough information to make the purchase
It tells the shopper the merchant doesn't know much about the product
If a fluffy or irrelevant product description is fed to Merchant Center/Google Ads, you'll get weird keyword suggestions and end up paying for garbage traffic, thus killing your conversion rate.
Poor Value Proposition
If you aren't presenting at least a couple of key reasons to buy, why should customers buy from you? There are often many competitors selling the same thing, why should they choose you? Your competition is going to have reasons to buy from them clearly listed on their product landing page. You need to match or improve on this.
Measuring E-commerce Conversion Improvement and Testing
You can easily measure conversions using Google Analytics. Make sure you make some notes or annotations, in Analytics on the Timeline to notate the changes you are making so you can measure the effect and improvement over time. Unlike SEO, you can see changes in conversion in just a few days in Google Analytics depending on how much traffic you have on your website.
There are some other monitoring services like ClickTale.com that while expensive can be worth their weight in gold. Hotjar is another great tool for monitoring how customers are using your website. For example, my company had some serious bumps in the checkout process but we couldn't pinpoint them.
The site was also behaving poorly on some really old browsers. We were able to see actual recordings of our visitors and how they were using the site and checking out. We ended up finding some easy-to-fix errors in our checkout and improved our conversion rate by half of a percent overnight. This resulted in increases in revenue of $85k a month just from some simple tweaks.

How to hire a CRO or Conversion Optimization Consultant?
If you're having trouble getting your site to convert after going through all of the tips in this article, it's time to call in an expert. There are ecommerce consultants that specialize in helping ecommerce stores improve their conversion rate.
If you have a larger ecommerce store with conversion issues you might want to seek a conversion rate optimization agency out. An agency is typically more expensive but has more synergy with multiple team members contributing to the solution. Conversion agencies are perfect for trying to squeeze every last drop out of Enterprise level ecommerce stores.
Some CRO's are amazing and worth their weight in gold. Here is a link to a guide we created to help you hire a Conversion Rate Optimization expert.
What does a Conversion Rate Optimization Rate Agency Do?
This can vary wildly depending on who you end up working with. The best approach is a ton of work which includes diving into the website visitor flow and customer experience. Setting up a proper funnel to determine where visitors are bouncing and A/B testing techniques to arrive at an improved conversion rate result.
These agencies can be super expensive and results very inconsistent. Before you hire a CRO agency make sure to do your research and meet with them to see how they are going to achieve the results you're looking for.
CRO Agency Process Overview 
Assess Customer Experience
Analyze Funnel
Create Actionable Recommendations
Implement Changes with A/B testing for proof
Sometimes it's something simple like a glitch in checkout or a shipping calculator that isn't working. Before you hire a CRO professional make sure you've "dog fooded" your website. That means, shop your own site like a customer!
Yep, it's super simple and I like to do this for my clients at least once a quarter or more, we always find some things that could be improved in just 15 minutes of shopping on the site…like a customer.
As I mentioned watching some Hotjar recordings or ClickTale recordings can be super beneficial and a great tool to see where customers are getting hung up.
Hotjar even has an easy to setup survey widget that customers can use to offer onsite feedback. Use their feedback to improve your landing page and conversion rate.
These are solid tips and best practices I've learned and implemented over the last 10 years during my eCommerce journey at ParadiseFibers.com and now formally as a consultant for online sellers. If you have any questions on this article or past articles, please comment below, I'd love to know if you enjoyed this article.
Ecommerce Consultant
at
Sharp Commerce
Travis has been working in e-commerce since 2005 and now consults for SMB and Enterprise eCommerce brands. Travis is a dog person and Mountain Bike's daily. He's been featured in Entrepreneur Magazine, ecommerceconsulting.com, Webretailer.com, Inspired Insider Podcast & Facebook For Business.
Latest posts by Travis Romine
(see all)